Recent advancements in healthcare have given us plenty of hope to reverse hair loss. Scalp Micropigmentation is a popular procedure that is quite effective against hair loss. The procedure is also known as a hair tattoo.

Scalp micropigmentation treatment hides baldness by covering bald spots and increasing hair density. A Hair Specialist or a Dermatologist inks your scalp to create an illusion of fuller hair.
Now before we discuss more about scalp micropigmentation, let's quickly understand what micropigmentation is.
What is Micropigmentation?
Micropigmentation is a cosmetic procedure that's also known as cosmetic tattooing or permanent makeup. The procedure is used to treat several conditions, mainly related to skin.
The procedure is often done on the face to enhance eyelashes, lips, eyebrows, and eyeliners. Micropigmentation treatment can also be done to camouflage the scars in your skin or even out the overall skin color.
How Does SMP Work, and Who Can Benefit From It?
In scalp micropigmentation, a dermatologist or a cosmetic surgeon will use micro-needles to tattoo the areas of the scalp. Initially, a topical numbing agent will be applied to the scalp. After that, hundreds of tiny dots are created on the epidermis layer of the scalp using medical-graded pigments.
The dots can be of varying sizes, depth, and angle to give a natural-looking appearance. The results tend to be so accurate that it gives the appearance of shaven hair. Natural pigments are always used in this procedure. The dots are created in various hues of black to generate a shadow look on the scalp. The dots would seamlessly blend with the natural hair and your skin color.
This process can benefit a variety of people suffering from conditions like – 
Alopecia areata

Hair loss due to autoimmune conditions

Male pattern baldness

Baldness in the crown

Receding hairline

Birthmarks or scars on the scalp

Hair loss due to chemotherapy

Hair Loss due to hormonal conditions like PCOS.

Scalp show-through or thin hair.
How Much Does Scalp Micropigmentation Cost in India?
There are multiple factors to consider before you can measure the cost of scalp micropigmentation in India. Let's understand these factors first –
1. Treatment Area: If you are at the initial stages of balding, then the treatment will cost you less as compared to someone who wishes to address hair loss in a larger area.

2. Skin Type: The cost of treatment will also differ based on the skin type. Few skin conditions will also require additional adjustments to the treatment that will increase the cost. For instance:
A thin skin would require a dermatologist to apply very little pressure. This shortens the overall procedure time.

Dry, older skin, flaky skin, highly sensitive skin, and damaged skin will require special attention and care. The time required will be more for such patients.

An extremely thick skin will be hard to penetrate, and a dermatologist has to apply extra pressure. This can increase the treatment time and cost.
3. Hairstyle and density: The density of hair changes for everyone. Even people with full hair can have different hair densities. To achieve the most natural look, the distribution and fullness of natural hair will also be taken into account while determining the final cost.
Based on the above factors, a scalp micropigmentation treatment can cost anywhere between ₹18,000 and ₹75,000 for one session.
How Long Do Scalp Micropigmentation Results Last?
The scalp micropigmentation treatment is considered a semi-permanent procedure. The results from the treatment can last anywhere between 4 and 8 years. The longevity of the results purely depends upon the skillset of the dermatologist and your skin type.
For instance, during the treatment, if an incorrect pigment is used, then the color may lighten quickly. If you have dry skin, then the results would diminish much faster because dry skin tends to be flaky. It exfoliates pigments at a much faster rate.
How Long Does Scalp Micropigmentation Treatment Take to Heal?
It is common for you to notice redness in the scalp for 2-3 days after the session. There is no need to panic as your body is doing the right thing. Inflammation is a common response to body wounds. However, there is no downtime after the procedure; one can return to their daily chores on the same day of the treatment.
For the scalp to fully heal, it can take anywhere between 7-10 days. The healing process of scalp micropigmentation is similar to that of a tattoo or sunburn. You just have to wait and stay away from heavy exercises, avoid wetting your scalp, not go to steam rooms, and expose your scalp to direct sun.
What Are the Side Effects of SMP?
Just like any other cosmetic treatment, SMP also has a handful of side effects. Most of the side effects are similar to that of tattoos. Here are three common ones – 
Undesirable or unnatural appearance of the scalp after the treatment. 

Allergic reaction from the medical-grade pigment used.

Infection from unsterilized needles.
These side effects can be entirely avoided by choosing an experienced dermatologist and by discussing your allergies, medications, and lifestyle with them before the treatment.
Best Skin Clinic for SMP Treatment in Bangalore
If you are from Bangalore and looking for scalp Micropigmentation treatment, then your search will end with Dr. Renu's clinic at HSR Layout. Dr. Renu Nair has over 10 years of experience in the field. Our clinic has state-of-the-art equipment and skilled nurses who can guide you at every stage of the treatment.
Scalp Micropigmentation: Before and After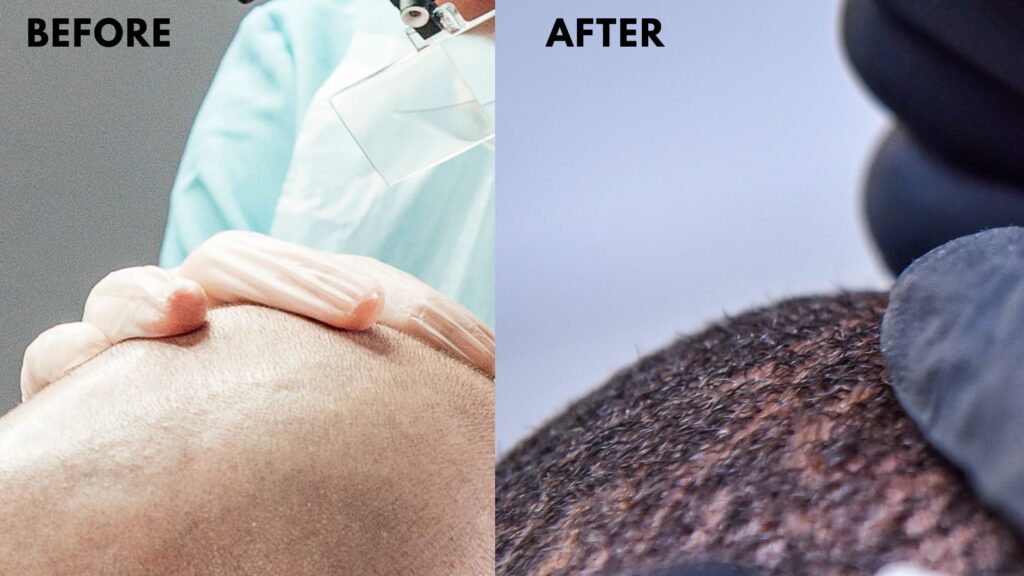 Conclusion
A vast majority of the population is suffering from hair thinning and balding. It is severely affecting their confidence. Scalp micropigmentation can be a great choice of treatment to restore that confidence without the need to perform any advanced surgeries. The results from the treatment are very natural looking and can make your scalp look full of hair.
Frequently Asked Questions
What happens if you sweat after scalp micropigmentation?
The skin is still sensitive after the treatment. So stay away from water or avoid things that will make you sweat. Sweating will not let your scalp heal properly. So no workouts, running, or any other physical activities for at least 5 days after the procedure.
When can I wash my hair after scalp micropigmentation?
You need to treat your scalp with care. Make sure to wait for at least five days before letting water come in contact with your scalp. Wash your hair with warm and soapy water. Use only mild or baby shampoo. Also, avoid using any hair growth products for a few days.
Does scalp micropigmentation work for long hair?
SMP can only create an illusion of short hair. If you have long hair, then scalp micropigmentation is not a great solution for you. 
Does scalp micropigmentation damage hair follicles?
No, scalp micropigmentation treatment doesn't affect the hair follicles. During SMP treatment, dermatologists only penetrate 2 mm into the dermis layer. Our hair follicles are located much deeper into the skin. 
Is scalp micropigmentation painful?
There is some level of pain associated with SMP, but it is usually much lower than what you feel while getting a tattoo. The needles used are smaller than tattoo needles, so the pain is minimal. Also, the dermatologist will apply numbing cream before the treatment so that you will not feel any pain. 
Does scalp micropigmentation fade?
Just like tattoos, even SMP results fade over time. The results can last up to 8 years. As our skin slowly exfoliates, the ink fades.