Skin tightening face pack is the key to unlocking a perfect skin.
The skin protects our organs and keeps us safe from all possible external dangers. Also, the way our skin looks is a reflection of our overall health. The healthier the skin looks, the healthier we are on the whole.
An important organ like the skin requires all the protection that it can get from us. Unfortunately, as we age, our skin starts showing signs of degradation and aging. Dryness, fine lines, wrinkles, loss of elasticity, and dark spots are classic symptoms of aging.
Thankfully, there are some simple home remedies. A skin tightening face pack is a classic example. In fact, once you turn 30, it is highly advised to start following a strict skincare regime supplemented by a good skin tightening face pack.
Now before we dive deep into the details of each skin tightening face pack, let us find the answer to an important question.
What causes saggy skin?
The production of collagen under our skin starts reducing as we age. When the volume of collagen decreases, there is a direct impact on the firmness of the skin. Soon our skin starts to sag. Now, besides aging, some other factors that can affect the skin's firmness include –
The loss of facial fat.
Sleep deprivation negatively affects the firmness of the skin. If you don't sleep enough, your skin will be unable to carry out its natural replenishment process, which results in loose skin.
Consuming alcohol and smoking tends to destroy your skin's elasticity.
UV rays can cause photoaging and result in photodamage of the skin. This, in turn, reduces the firmness of the skin.
Pregnancy can also result in skin sagging and loss of elasticity.
A sudden reduction in body weight can also lead to the sagging of the skin. It is best to lose body weight slowly and steadily.
Natural skin tightening face packs
Here are some tried and tested natural skin-tightening face packs that you can try from the comfort of your home –
1) Papaya face pack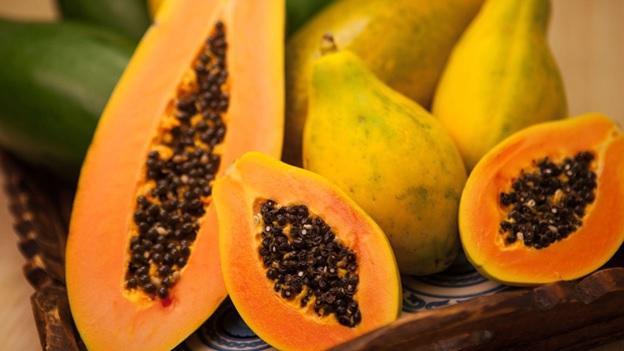 There is a very special enzyme present in papaya called papain. It helps our body in removing skin impurities and diminish pigmentation. Papin, when used along with alpha-hydroxy acids, acts as a great exfoliant and removes dead and damaged skin cells. This makes way for glowing, supple, and soft skin. Papaya is also rich in antioxidants like lycopene, which reverses skin aging to a considerable extent.
Ingredients
A cup of chopped raw papaya
1 tablespoon of honey
1 tablespoon of lemon
Procedure : Mash the chopped papaya and add lemon juice and honey to it. Mix well until a paste is formed. Apply this paste on your skin and massage your skin. Keep the mask on for 30 minutes until it's completely dry. Wash it off with lukewarm water.
2) Honey, lemon juice, and egg white face pack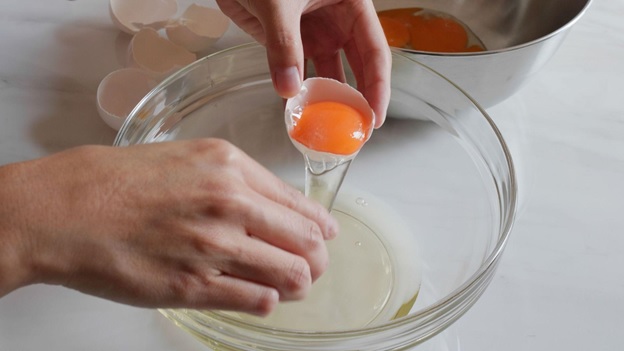 This face pack offers numerous skin benefits and is widely used across the world. It's common knowledge that when you are exposed to UV rays, the production of free radicals is triggered. There is an increase in the production of melanin, which darkens the skin. 
Now, lemon juice is rich in vitamin C, which fights and neutralizes free radicals. It slows down the signs of aging, including skin sagging. Albumin present in the egg white aids in tightening the skin pores. Honey removes the moisture in the skin and creates an antibacterial field to protect you from acne.
Ingredients
1 tablespoon of honey
One egg white
1 tablespoon of lemon juice
Procedure: Break the egg and extract egg white into a bowl. Beat the egg white thoroughly until it becomes fluffy. Then add the honey and lemon juice and mix it well until it forms a paste. Now apply this face mask and massage your skin for a minute or two. Let it rest for around 40 minutes before washing it off with cold water.
3) Aloe Vera skin tightening face pack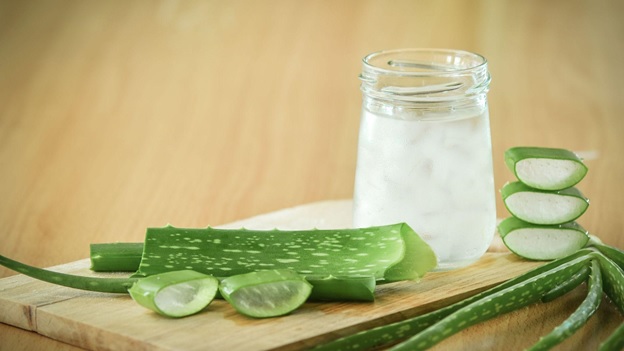 When it comes to the best natural ingredients to treat skin problems, aloe vera features a spot on the list. Aloe vera acts as a shield to protect your skin from various conditions, including skin sagging. It not only contains vitamins A and C but is also quite rich in antioxidants and water content. It soothes our skin and keeps it hydrated. Aloe vera also has anti-inflammatory properties that can help treat wounds, redness, burns, and irritation.
Ingredients
1 tablespoon of aloe vera gel
1 egg white
Procedure : Beat the egg white in a bowl until it becomes fluffy. Now, add the aloe vera gel to the egg white and mix it well to form a smooth paste. Apply the paste to your neck and face. Let the mask dry for at least 40 minutes. Wash it off with water and pat dry your face with a clean towel. Apply this mask once every two days to get the best results.
4) Coconut oil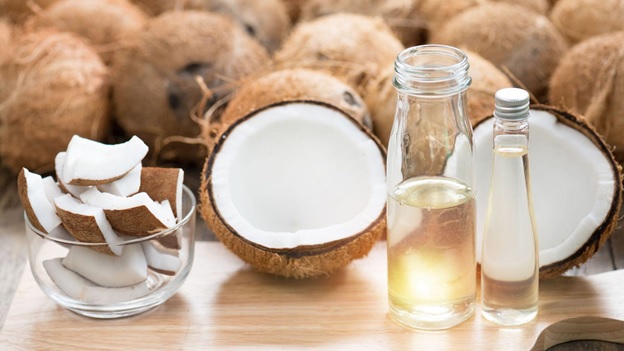 Coconut oil contains lauric acid, which is known to prevent our skin from premature aging. Apart from that, coconut oil is also rich in fatty acids and Vitamin E, both of which promote skin healing and keeps the skin supple. The vitamin A present in coconut oil boosts the production of collagen and prevents fine lines and wrinkles.
Ingredients
1 tablespoon of coconut oil
1 tablespoon of honey
Procedure: Add coconut oil and honey to a cup and mix them well until you get a paste. Massage your face and neck with the paste and leave it to dry for 40-50 minutes. Then rinse your face with lukewarm water. For best results, repeat the face pack once every week.
5) Oatmeal face pack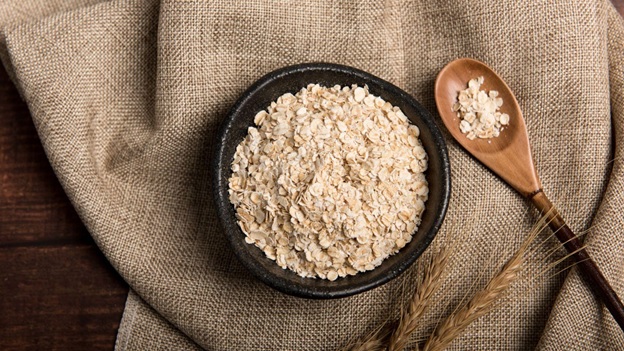 Oatmeal contains avenanthramides, which is an anti-inflammatory agent. It helps in soothing your skin from irritation and dryness. Oatmeal also reduces the appearance of acne and blackheads by exfoliating dead skin cells and paving the way for clear skin.
Ingredients
1 tablespoon oatmeal
1 tablespoon eggwhite
Procedure: Take 1 tablespoon of oatmeal and grind it well. Add them to a bowl along with egg white. Whisk it well to form a mixture. Apply this paste as a mask around your neck and face evenly. Allow it to dry for 30 minutes. Wash the mask away with cold water and pat your face dry.
6) Multani Mitti skin face mask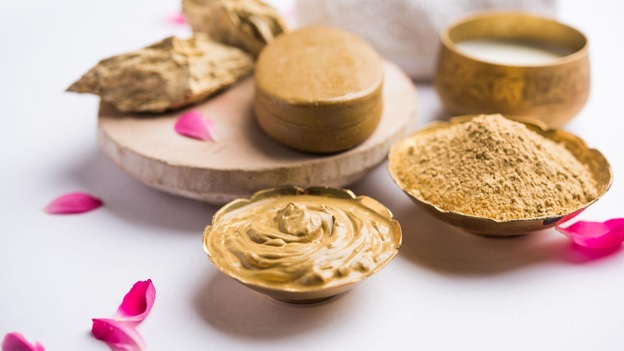 This is a traditional ingredient used for skin tightening. It's been around and used for ages. This face mask can eliminate excess oil, remove impurities, cleanse, and nourish the skin. It is widely used for treating oily skin, tanning, acne, pigmentation, and blackheads. It can be combined with other ingredients like egg and curd to form a face mask and used for skin tightening.
Ingredients
1 tablespoon of Multani Mitti powder
1 egg
1 teaspoon of curd
Procedure: Add all 3 ingredients in a bowl and mix them well to form a paste. Apply this paste evenly on your face and neck. Gently massage. Let it sit on the skin for at least 40 minutes. Wash it later with lukewarm water.
7) Banana fruit face mask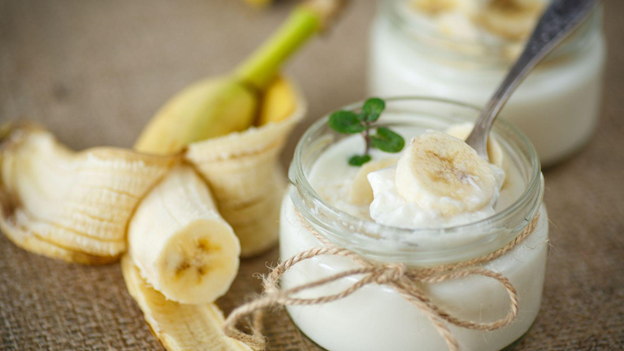 Banana is rich in various vitamins like Vitamin A, Vitamin B6, potassium, and Vitamin C. They help in treating various skin-related problems. The fruits also contain antioxidants that help in fighting free radicals and protect the skin from environmental damage. The banana face mask easily brings a glow to your skin and lightens the skin's complexion. It also moisturizes the skin and makes it supple.
Ingredients
1 tablespoon of yogurt
1 small banana
Procedure: Mash the banana in a bowl and add yogurt to it. Mix it to form a fine paste. Apply this paste to your face and neck and leave it on for 15-20 minutes. Peel the mask off gently and rinse with cold water.
Exercises for skin tightening
Apart from the above face packs, you can also perform the below exercises to tighten your skin –
Brow Raiser: Bring your index and middle finger together. Place the fingers above the brows and push the skin up. Apply tension to your brows by pushing the fingers up and down. Repeat it 6 times.
Cheekbone lift: Place your palm and cover your cheekbone from the chin. Lift your skin gently and open your mouth to form an oval shape. Hold it for 5 seconds. Repeat the process for 15 sets.
Cheek squeeze:  Lift your head all the way back. Bring your chin forward. Make sure not to strain your neck. Make a fish face by sucking your cheek. Do not bite your tongue or lips. Repeat this procedure for 15 sets, with each set lasting 5 seconds.
Double chin workout: Tilt your face all the way back in a sitting or standing position. Touch your tongue to the roof of the mouth, holding your head still. There will be a slight pain in the neck due to contracting muscles. Let go and bring your chin slowly to its normal position. Repeat this process for 5 sets, with each set lasting 30 seconds.
Face skin tightening diet
Consume the below super foods to aid your skin tightening process –
Green Tea: The polyphenols and antioxidants present in green tea aid in fighting free radicals, thus bringing suppleness to the skin.
Olive oil: It regulates metabolism and reverses aging thanks to its heart-healthy fats. It also boosts thyroid function, aiding in further skin tightening.
Bright Vegetables: They have a lot of vitamin C, antioxidants, and carotenoids, all of which are skin de-aging agents.
Cucumber: It keeps your skin hydrated and nourishes it as it contains vitamins B, K, potassium, and copper
Citrus fruits: helps in boosting the production of collagen thanks to the high levels of vitamin C.
Professional skin tightening treatment for the face
Each of the above skin tightening face pack can give you amazing results, but it will take a long time to see any visible changes on your face. This is where skincare treatments like botox, fillers, laser skin resurfacing, and tissue tightening treatments help.
These treatments are safe, easy on the pockets, and, most importantly, they offer quick results. Dr. Renu Nair is one of the top dermatologists in Bangalore, offering all these treatments in her clinic. To book an appointment with her, click here.