As we age, our skin changes considerably. Issues such as wrinkles, fine lines, and age spots start manifesting, especially when we do not take care of our skin well. Eventually, you would have to find a dermatologist who can detect, prevent and eliminate these skin problems. They will also provide valuable information on skincare and recommend appropriate treatments for your skin type. However, choosing a good dermatologist is not an easy task, especially in a massive city like Bangalore, where you will be flooded with options. At the same time, choosing an experienced dermatologist is critical to ensure that your skin gets adequate care without any major side effects. In this post, we will go through some handy tips and show you how to choose a dermatologist in Bangalore. 
1) Get recommendations
One of the easiest ways to find a reputable dermatologist in Bangalore is via recommendations from family, friends, and acquaintances. Recommendations are extremely valuable because they come from people who have had first-hand experience with the same dermatologist. They can provide valuable insights about their experience, including the level of care provided, the results of treatments, and the overall professionalism of the dermatologist.
While asking for recommendations, make sure to inform them about the specific condition or treatment you are seeking. Someone who has undergone a very similar procedure or has experience with a similar skin condition might be able to provide more specific and personalized information.
Another way to get recommendations is by asking your family doctor, primary care physician, or another healthcare professional that you met recently. They may have a list of reputable dermatologists they work with or have heard good things about. They may also be able to provide valuable insights into the dermatologist's qualifications, experience, and treatment approach.
2) Search online
When it comes to finding the best dermatologist in Bangalore, the internet can be a valuable asset. However, with so many options available, it might be difficult to know where to start. Online reviews are a great source of information when looking for a dermatologist. Many websites, such as Practo and Google, allow patients to leave reviews of their experience with a particular dermatologist.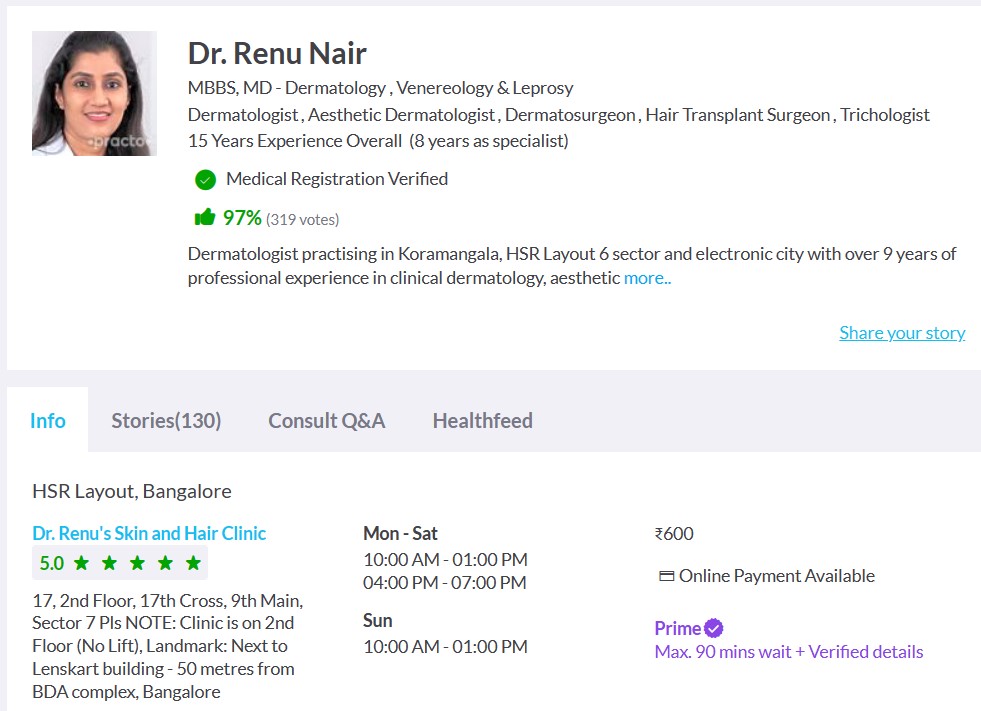 Reading these reviews can give you a sense of the dermatologist's professionalism, the level of care provided, and the results of their treatments. Some of the keywords that you can use in your search are:
Dermatologists in Bangalore
Skin doctor in Bangalore
Dermatologist in HSR Layout
And so on…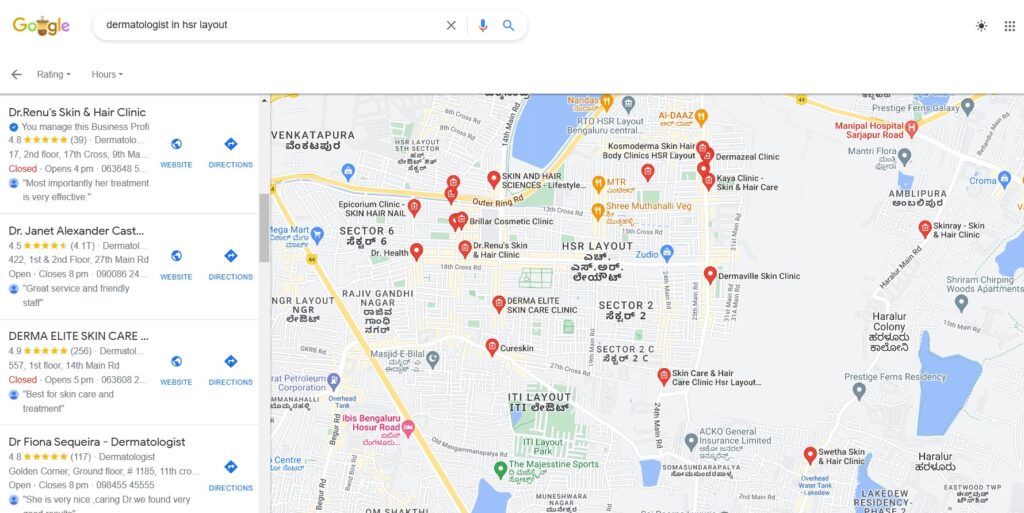 3) Look out for the dermatologist's credentials
Now that you have a list of dermatologists, it is time to dig deeper to know more about them. While you do the research, it's important to focus on the credentials of the dermatologist to ensure that they are qualified and experienced in treating your skin condition.
The first step is to check if the dermatologist is licensed. A licensed dermatologist would have graduated from an accredited medical school and passed a rigorous examination set by the medical commission. 
It's also important to check if the dermatologist is affiliated with any professional organizations or societies. These organizations often have strict requirements for membership, and being a member can indicate that the dermatologist is up-to-date with the latest treatments and research in the field.
Another good way to research a dermatologist's credentials is to check their online presence. Many dermatologists have websites that can provide valuable information about their qualifications, experience, and the services they offer.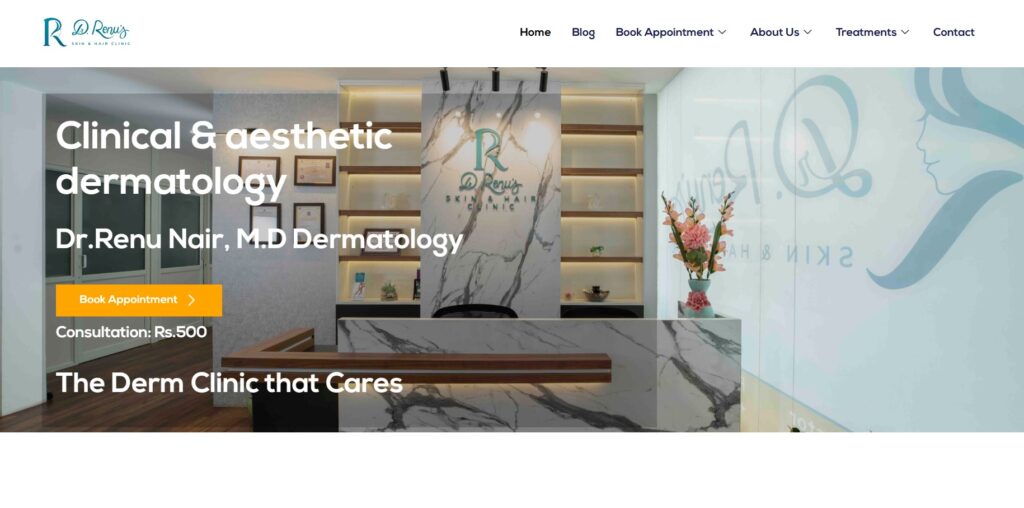 Lastly, check if the Dermatologist is a member of the Indian Association of Dermatologists, Venereologists, and Leprologists (IADVL), which is a national association that promotes the study of dermatology and venereology and offers a forum for the exchange of ideas among its members.
4) Find the experience of the dermatologist
An experienced dermatologist will have a thorough understanding of all types of skin and its conditions since they have treated thousands of patients in the past. They will be able to provide accurate diagnoses and effective treatments straightaway. 
Just look at the number of years they have been in practice. A dermatologist who has been practicing for a longer period of time(10+ years) will definitely have more knowledge than one who is just starting out.
Don't forget to check their experience in a specific area of specialization. For instance, some dermatologists may have more experience treating simple conditions like acne or eczema, while others may have experience in advanced cosmetic procedures like Botox or fillers. So if you are looking for a botox procedure, then you must ensure that the dermatologist has sufficient experience in performing that procedure.
You can also ask the dermatologist directly about their experience treating special types of skin. For example, if you have a darker skin type, you may want to find a dermatologist who has experience treating patients with similar skin tones. They will be better equipped to understand the unique challenges that come along with treating darker skin.
5) Assess the accessibility and availability of the physician
You must assess the level of accessibility and availability of the dermatologist in case of an emergency. Even though life-threatening emergencies are rare in the field of dermatology, you never know what complications can arise at any time. So you may want to make sure that you can reach your dermatologist quickly and easily at any time. 
Ask if the dermatologist offers telephone or video consultations. Many dermatologists now offer these options as a way to provide more convenient and flexible care to their patients. Telephone or video consultations can be especially useful in case of an emergency, as they allow you to speak with your dermatologist without having to leave your home or wait for an in-person appointment.
Another way to ensure accessibility is to ask if the dermatologist has a designated emergency phone number that you can call in case of an emergency. This can be especially useful if you have a condition that requires prompt attention, such as a severe allergic reaction or a sudden outbreak of a skin condition.
It's also important to consider the dermatologist's office hours and availability. You may want to find a dermatologist who has flexible office hours. This will ensure that you can schedule appointments at a time that works best for you. 
Lastly, it's a good idea to inquire about the dermatologist's policy on after-hours care. Many dermatologists have arrangements with other healthcare providers or hospitals to provide emergency care if they are unavailable.
6) Find a dermatologist near your location
Finding a dermatologist near your home can make it extremely convenient to schedule appointments and avoid long commutes. Many websites, such as Google and Practo, allow you to search for dermatologists by location. You can enter your area's zip code, and the website will provide a list of dermatologists in that area.
7) Understand what your insurance covers
Check with your insurance provider to see which dermatologists are in-network. This will help narrow down your list of options and ensure that you'll be able to afford the treatments you need. Alternatively, you can ask the dermatologist's office about their insurance policy and if they accept your insurance. This will help you to know if the dermatologist is in-network and can help you avoid any unexpected costs.
Conclusion
Choosing the right dermatologist in Bangalore is crucial to ensure that you receive the best possible care for your skin. By considering factors such as experience, qualifications, location, services offered, patient reviews, cost, and insurance coverage, you can narrow down your options and find a dermatologist that is best suited to your skin care needs. 
Dr. Renu is one of the leading dermatologists in Bangalore. She is known for her expertise in treating a wide range of skin conditions and performing various procedures with precision and care. Her clinic is conveniently located in HSR Layout in Bangalore and is equipped with state-of-the-art technologies to offer the best skin treatments. To book an appointment, click here.